Do you want to get top dollar for your home when it goes on the market? Good. Because I'm going to give you the top five absolute best ways to get the highest possible price for your house.
Declutter. This one is huge. I can't stress it enough. I can't tell you how many listing appointments I go to where the house is beyond cluttered, sometimes where you can't even see what kind of flooring there is in a bedroom, or you aren't able to walk into a garage because it's just packed with stuff all the way up to the ceiling.
So, here's the deal. If you're selling your house, get rid of everything you can before you move. Sort it into these three kinds of piles: Box it up and put it away, give it away, or throw it away. And if you're at the point of getting your house ready to sell and ready for professional photography, put away all of those family pictures. You're going to have to do it anyway when you move. Take all the photos off the fridge. Put away all those personal items. But without a doubt, declutter. Put away all of your stuff!
Paint. It's that simple. A $30 can of paint can do absolute wonders, both inside and outside of your home. Color-match from your local paint store and then touch up any interior walls that have handprints or smudge marks. Paint the baseboards and all of those exterior areas where you have peeling or cracking paint, but do one room at a time so as to not be overwhelmed by the whole project. Painting can just brighten up a house like few other things can, and if you want the highest possible price for your home, painting will definitely give you more bang for your buck.
Landscape (a.k.a. improve that curb appeal). You want your house to stand out from the crowd when people pull up, right? So spend some money on some colorful flowers and plants on the buyer's journey to your front doors. Make sure the outside of the house is attractive and draws the buyer in. This goes without saying, but pick up all the junk on the outside of your house.
I once had clients whose adult son had parked an old, broken-down flatbed truck in the driveway filled with junk, and despite promising to remove it, had failed to do so right up to just a few hours before our first open house. The sellers were in a panic. So with their permission, I called a tow truck company, and I had that junker moved to my property behind our barn. And by the way, that house sold within about a week of listing it, and it was no coincidence. So pull up all the weeds, pick up all the trash, mow the lawn, and pick up all that dog poop, for crying out loud! You'll get the highest possible price with some money spent on curb appeal. You really will.
Repair and replace. Now is the time to get any major repairs taken care of. Not afterwards…before. Now, listen. If your house has some things broken and in need of repair, I can just about guarantee you that the buyer is probably going to come in at a lower price than what you're asking for, based upon these things that they see are wrong with your house. I'm talking about things like roofing repairs, electrical repairs, plumbing, old or damaged flooring, broken doors or windows, creaking decks, etc.
Listen. Just last week I showed some of my buyers a $1.3 million horse property, and when I stepped outside onto the Trex decking, it felt like a diving board in some places. I'm not kidding. Someone had forgotten to put the floor joists across an entire section of the deck, and I thought I was going to bounce right into the pool. And you know what I thought? 1.3 million? Are you kidding me? So, get your DIY mojo on or hire someone to do it. But by all means, if you want the highest possible price for your home when it sells, repair and replace before you put it on the market.
Clean. Of course, right? Clean your house from top to bottom. People will put up with a lot of things when searching for a new home, but a dirty, smelly house is certainly not one of them. When I first started out in real estate in Las Vegas in the early '90s, I went on a listing appointment where, when I walked into the house, I literally had to put my hand over my mouth and nose because I started to gag. I'm not joking. The people had several dogs in the house, and the dogs had done their business all over the place, and man, it stunk to high heaven.
So, I had to take the sellers out to the front yard where I could breathe and talk at the same time. And I said, "I'm really sorry, but I've got to be honest with you. If you want to sell your home, you're going to have to pick up all that dog poop on the inside of your home, and you're going to have to get rid of that smell, and you may even have to replace the carpet." The moral of the story, boys and girls, is this: make sure that your house smells great and is clean on the insides. If you want the highest possible price for your house when you sell your home, get the carpets cleaned, wash those windows, have a professional cleaning service come in if need be, make sure the bathrooms smell nothing but great, and just make sure your house smells great and is clean on the inside. Declutter, paint, landscape, repair and replace, and clean. Now, you may want to reach out to a top local agent in your area and have them do a walkthrough regarding these five areas to help you get started. And if you live in my local area, North Monterey County, feel free to contact me and I'll be glad to help you put together a plan to get you started towards getting the highest possible price for your house.
What's the one inspection that you should never ever skip when you're buying a home? It's simple. The home inspection. Never skip the home inspection.
There's lots of other inspections that you can get, but never, ever, ever skip the home inspection. I can hear your objection now. "Wait, Barry, buying a home is so expensive enough as it is. Why should I have to spend all this extra money, hundreds of dollars if it's not even required?"
Well, years ago in the early 1990s, way back in the day when I entered the real estate business, the days of the covered wagons home inspections were not the rule; but today, all that has changed and almost all buyers order a home inspection before purchasing a home. Personally, I would never recommend to my clients buying any home without a home inspection.
If you're a buyer, maybe you love surprises, right? Surprise birthday party, surprise dinners, surprise gifts—but the one surprise that you do not want is a surprise that you've bought your home and you've found out that there's now something wrong with it. You do not want your home purchase to come back and bite you after close of escrow. Trust me.
Home Inspection Recommendations
So I would recommend that as a buyer, you always, always, always order a home inspection because skipping the home inspection could cost you thousands of dollars down the road once a major defect is discovered. And don't just believe me—that actually happened to one of my clients a couple of years ago. As their buyer's agent, I encouraged them to get a home inspection on the house they were buying, but the husband said, "Oh, no, I don't need a home inspection. Those home inspectors they don't really know what they're doing anyway and it's way too much money. I'll do my own home inspection." I thought, "Oh wow, this is not going to be good." And lo and behold, they came home from a vacation and their house was flooded by a defective automatic sprinkler that had not been installed correctly. And a home inspector probably would have saved them thousands of dollars in repairs.

Did you also know that if a home inspection uncovers significant problems, you've got all kinds of options as a buyer?
You can ask the seller to fix the problem and to provide documentation from a licensed contractor if necessary.
You can ask the seller for credit so that you can make the repairs after close of escrow.
You can ask the seller to simply reduce the sale price.
And I've had that happen a multitude of times because my clients made the wise decision to use a home inspector.
Subscribe to my YouTube Channel
So why is the home inspection so important? Because as a buyer, it's normally part of a real estate contract that protects you from losing your earnest money deposit in case you need to back out of the purchase.
In fact, one of the biggest reasons a house falls out of escrow is because of an issue that arises regarding a defect in the house.
Something that is in need of repair— that happens all the time. And if the problems are too significant or too expensive to fix, you can choose to walk away from the purchase as long as the purchase contract has an inspection contingency period. In California, that period is 17 days for you to do your investigation and inspections. And if a problem arises, you can back out of the sale and get your earnest money deposit back.
Now, a word to the sellers out there: it's also best for you to get a home inspection before you list your home on the market.
This way you can uncover any serious problems and fix them before listing your home. If you've got a problem, it's either going to come out now or it's going to come out later. You really want it to come out beforehand so that you can fix it. This will eliminate any surprises that actually could kill your real estate sale and knock it right out of escrow.
So what does a great home inspection usually cover? In a nutshell, it's mechanical, electrical, structural, heating, cooling, plumbing and foundation issues.
Sinking, cracking or settling.
Grading and exterior drainage issues like flooding.
Fire safety issues, such as smoke detectors or carbon monoxide detectors, kitchen appliances like your dishwasher, your stove, your cooktop.
Roof and attic. Some inspectors will actually even get up on the roof and look for missing or loose shingles.
Roof gutters.
Signs of leaks on the interior ceilings.
Mold and dry rot under the sinks and in the bathrooms.
Termites.
If you're looking for more extensive inspections regarding mold or signs of pest damage, such as termite or dry rot or asbestos, radon gas, lead paint, that you should schedule an inspection with a specialist who focuses on those particular areas, because your home inspector is only in the general scope of an inspection. That's why here in California, I always recommend a pest and dry rot inspection as well as the home inspection.
So how long does a home inspection take and how much does it cost? In general, you can expect the home inspection to take approximately 2-3 hours. And when the inspector completes their evaluation, they're going to send you a detailed report. Usually you'll receive a digital copy through email that's around 50 pages or so. It outlines the condition of the home that you're selling or buying along with lots of pictures and any recommendations for repairs. Now in California, the average cost to hire a home inspector is around $500 because everything costs about double here. But make sure you ask ahead of time, how much that inspector's going to charge and find out exactly what they're going to do. Most will have a website describing this in detail.
How do you choose the right home inspector? I would recommend that you make sure they're listed with the American Society of Home Inspectors. That's a trade association that governs that industry. You can also ask a top real estate agent in your area who they would recommend and look for reviews online, such as places like Yelp or HomeAdvisor. And if you're in the Central Coast area call or text me, and I'll give you my top three recommendations.
But the bottom line is this: whether you're a buyer or seller, a home inspection is money well spent. It'll cost you a little bit of time and money, but in the long run you're going to be glad that you did it.
It's kind of like that old Fram oil filter commercial where there was this old mechanic and he was sitting next to this engine up on these blocks and he said, "If they would have only listened to me and changed their oil filter, they wouldn't have to be paying thousands of dollars to get their engine fixed." And the punchline was something like, "You can pay me now, or you can pay me later." And that's exactly what a home inspection is. Whatever the situation, addressing issues early through a home inspection can save you tens of thousands of dollars down the road.
What is a Zoom town, and why are so many people moving to them like it's nobody's business? What is causing this amazing phenomena, and will it be affecting you personally in the near future?
Now, if you're living on the Central Coast, specifically Monterey County, I've got some news for you at the end of this article that might really surprise you about what's going on in our local area.
What is a Zoom town?
Well, Zoom towns are booming areas for remote workers looking to get away from these urban centers during the pandemic. People who've had well-paying jobs that once lived in these urban areas for reasons such as great restaurants, theaters, nightlife, now find that many of those amenities are no longer available. And because so many people have been told by their employers that they no longer have to come into a primary workplace or live in a geographical area, people are now escaping the big city.
And they are looking to escape:
urban congestion
environmental issues
expensive and limited housing
a general decline in the quality of life.
And they're moving to Zoom towns—housing markets that are booming as remote work (AKA Zoom) takes off.
What's the criteria for a Zoom town?
Usually a smaller town than where people are moving from
Inexpensive (or less expensive than where they are moving from)
Areas with medium-priced single-family homes
Lower population density
Wide open spaces
Recreational opportunities (national parks, bodies of water, etc.)
Within 20-30 mins of a bigger city
Here's a few of the top Zoom towns in the West.
In most of these places, home prices have shot up to 50% in just six months. And part of this is because of good old supply and demand. The inventory of houses for sale in these areas is shrinking. As people are moving in and buying up all of the available houses, the prices are shooting up, up and up.
Lake Tahoe, Nevada
Truckee, California
Butte, Montana
Missoula, Montana
Bend, Oregon
Sandpointe, Idaho
Meridian, Idaho
Prunedale, CA
That's right. Prune-Tuscany, which I've been telling you for at least a year now was Monterey County's best kept secret.
But it appears it's no longer a secret. The word is out. The cat is out of the bag. You better add to your list, Prunedale, Royal Oaks and Aromas in North Monterey County, as part of this Zoom town phenomenon.
Let me give you an example. Last month alone, over 90 different families scheduled a showing appointment not too far from me to look at a home over on Echo Valley Road. And that was just in a few days. That generated 15 different offers, and it sold for over $100,000 the original list price. How do I know that? Because my clients from out of the area submitted the winning bid. All cash.
So now you might be considering taking the plunge and moving to your own little Zoom town. Maybe you've got your eye on one of those places. Make sure you get the most out of your home by picking up my free seller's guide.
And if you're thinking about relocating, you might want to check out "Why Are People Leaving California?" which I think you'll find very helpful.
Until next time, stay safe, and God bless. – Barry Diamond, your Monterey Real Estate Guide
Nearly four-in-ten men ages 25 to 29 now live with older relatives
Source: Pew Research Center
Nearly four-in-ten men ages 25 to 29 now live with older relatives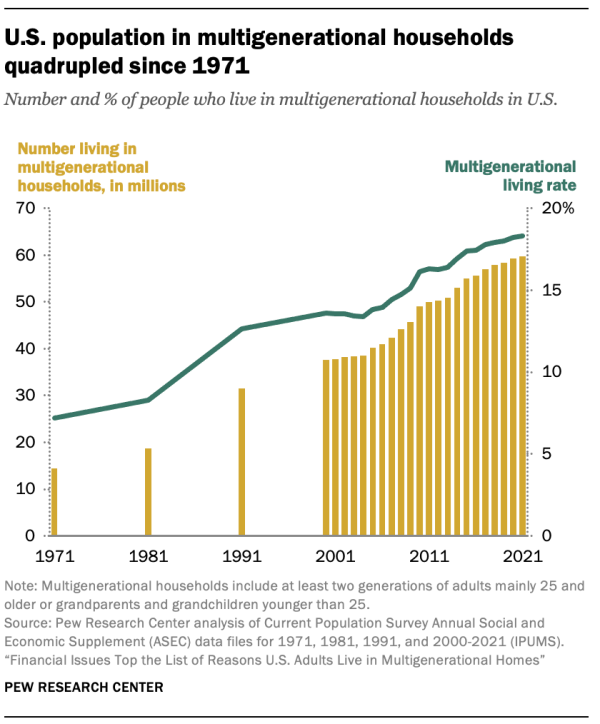 Multigenerational living has grown sharply in the U.S. over the past five decades and shows no sign of peaking. When asked why they share their home with relatives, Americans often give practical reasons related to finances or family caregiving. But the experience also has an emotional component. About a quarter of adults in multigenerational homes say it is stressful all or most of the time, and more than twice that share say it is mostly or always rewarding.
These experiences with multigenerational living vary by demographic group, especially by age and income, according to a Pew Research Center survey conducted in October 2021. There also are generational differences, especially in terms of stress and money, between the views of adult children and parents who share a home.
According to an analysis of census data from 1971-2021, the number of people living in multigenerational family households quadrupled during that time period, reaching 59.7 million in March 2021. The share more than doubled as well, to 18% of the U.S. population.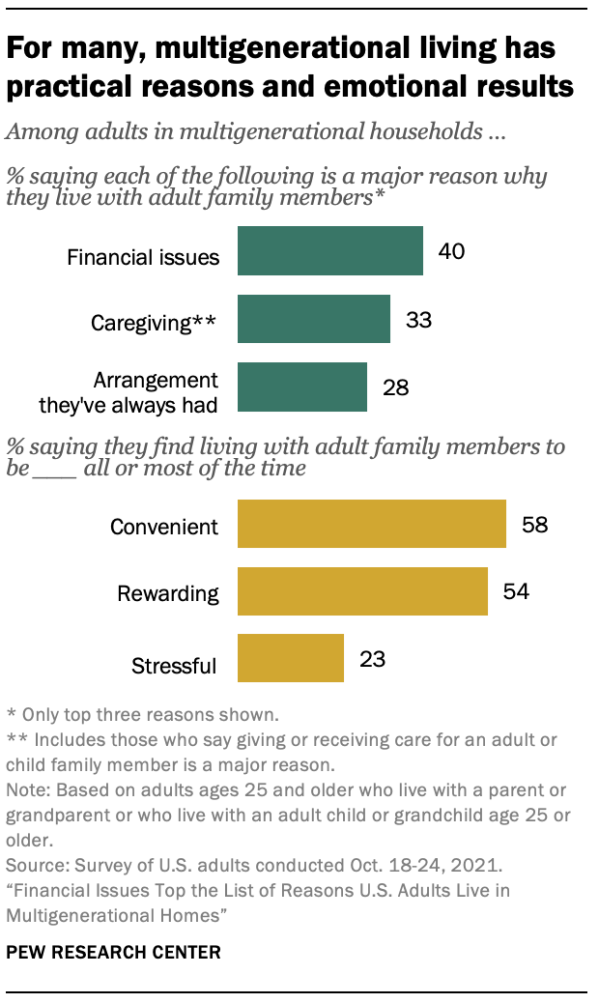 This increase in multigenerational living has been fed by social forces that include rapid growth of the U.S. Asian and Hispanic populations who, along with Black Americans, each are more likely than White Americans to live with extended family, especially if they are immigrants. By age, the highest share in this living arrangement is among young adults, a group that compared with prior generations when they were young generally stays in school longer, postpones or forgoes marriage and delays forming their own households. Among young adults ages 25 to 29, nearly a third (31%) live in multigenerational households, often in their parents' home. Nearly four-in-ten young men in this age group (37%) are in multigenerational households, as are 26% of similarly aged young women.
Living in a multigenerational household appears to confer a financial benefit by buffering residents against poverty, according to census data. Americans living in multigenerational households are less likely to be poor than those living in other types of households. This is especially true of some groups that are economically vulnerable, such as unemployed people.
Although majorities across income groups cite financial issues as a major or minor reason for residing in a multigenerational family household, lower-income adults are more likely to say the living arrangement helps them financially – 50% say it does at least a little, compared with 36% of middle-income adults and 24% of upper-income adults.
Parents living with adult children and adults living with parents are about equally likely to say finances are a major reason for their living arrangement. But among those living with parents, younger adults (ages 25 to 39) are much more likely than older ones (40 and older) to say this (57% to 31%). And while 53% of adult children who live with their parents say it helps them financially at least a little, a smaller share of parents living with an adult child (29%) say the same. Parents are more likely than their adult children to say that living with extended family hurts their finances at least a little.Defining multigenerational households
The nationally representative survey of 9,676 U.S. adults, including 1,548 who live in multigenerational households, was conducted Oct. 18-24, 2021, using the Center's American Trends Panel. The census figures are from the Annual Social and Economic Supplement of the Census Bureau's Current Population Survey, which reports data for the civilian population other than those living in institutions such as prisons or mental hospitals.1
Among the other key findings:
A third of U.S. adults in multigenerational households say caregiving is a major reason for their living arrangement, including 25% who cite adult caregiving and 12% who cite child care. Among the other reasons given for living in a multigenerational household, 28% say it's the arrangement they've always had, while smaller shares cite a change in relationship status (15%), or companionship (12%) as a major reason why they live with family members. About one-in-eight adults (13%) say the coronavirus pandemic is a factor in why they live with multiple generations under one roof.
A quarter of adults in multigenerational households say caregiving actually is occurring in their homes, either in the form of personal care for another adult in the household or care for a child younger than 18 who is not the caregiver's own child. Those with lower (30%) and middle (24%) incomes are more likely than those with upper incomes (15%) to say caregiving is occurring in their household. Among adults living with a parent age 65 and older, 23% say they personally provide care for another adult in the household at least sometimes, compared with 8% of those living with a parent younger than 65.
More adults living in multigenerational households say the experience has been very positive (30%) or somewhat positive (27%) than say it has been somewhat negative (14%) or very negative (3%). An additional 26% say it has been neither. About half or more of those living with adult relatives other than a spouse or partner say it is convenient (58%) or rewarding (54%) all or most of the time. About a quarter (23%) say it is stressful all or most of the time, 40% say it is stressful some of the time and 36% say it is rarely or never stressful.
Among adults younger than 40, men are more likely than women to live in multigenerational households. Among those ages 40 and older, women are more likely to do so. For the most part, the reasons for living in a multigenerational household do not vary between men and women. Women are more likely than men to say a change in relationship status is a major reason. Among those living with a parent, men are more likely than women to say this is the arrangement they've always had.
Parents living with an adult child (60%) are more likely than adult children living with a parent (52%) to say their living situation is at least somewhat positive. Among adult children who live with parents, the younger group, ages 25 to 39 (43%), is less likely than those 40 and older (64%) to say the experience is at least somewhat positive. Adults living with parents (31%) are more likely than parents living with adult children (18%) to say their living situation is stressful all or most of the time. Similar shares of adults living with a parent and parents living with an adult child say living in a multigenerational household is convenient or rewarding all or most of the time.
Parents are more likely than adult children to pay the rent or mortgage when the two generations share a home. A majority of parents who live with an adult child (63%) say they pay more than half the rent or mortgage, including 51% who say they pay all. Meanwhile, 30% of adult children living with a parent say they pay nothing. Adult children are more likely to chip in for day-to-day costs; only 9% of those living with their parents say they pay nothing for groceries, utility bills or other household expenses. Still, 45% of parents living with adult children say they pay all such costs.
Upper-income adults are less likely than those with lower or middle incomes to cite caregiving as a reason for living in a multigenerational household. About a third of upper-income adults say that giving or getting adult care is a reason they live in a multigenerational household, compared with 45% of those with middle incomes and 51% of those with lower incomes who say so. Only 9% of upper-income adults identify giving or receiving child care as a reason for living with extended family, compared with 32% of lower-income adults and 20% of middle-income adults.
Upper-income adults in multigenerational households are more likely than those in other income groups to see the arrangement as temporary. Some 47% say they think they are in a temporary situation, compared with 35% of those with middle incomes and 31% of those with lower incomes. Overall, 41% of adults in multigenerational households say their living arrangement is a long-term one, 34% say it is temporary and 24% do not know. Upper-income adults also are more likely to find multigenerational living to be a positive experience – 71% say so, compared with 59% of middle-income adults and 50% of lower-income adults in that situation. Lower-income adults are more likely to say there is not enough space in their home for everyone to live comfortably – 38% say so, compared with 21% of middle-income and just 9% of upper-income residents of multigenerational households.
Among most major racial groups and Hispanics, the share of people in poverty is lower in multigenerational households than in other types of households. Overall poverty is lower in multigenerational homes (10% of those who live in them are poor) compared with other types of households (12%), according to census data. The apparent benefit of living in a multigenerational household extends to people who are unemployed – 11% in multigenerational households were poor in 2020, compared with 19% of those in other living arrangements. Those with a disability that limits or prevents them from working also are less likely to be poor if they live in a multigenerational household (16%) than another type of household (27%).
My little terrorists are still wreaking havoc!
I took our two little chocolate labs Emma and Victoria to the vet in Prunedale this week for their 2nd set of shots. While I was waiting outside for our scheduled appointment, a guy in a pickup pulled up next to me and explained, "Oh my gosh, chocolate lab puppies! I had a chocolate male that was my best friend I ever had!"
Then he said something that let me know he knew his way around the proverbial block.
"Yeah, he continued, "the first two years you want to kill 'em! But if you can survive that, they're the best dogs ever!"
"You are absolutely spot on, my friend!" I responded back in amazement. I knew in that instant that he was a part of the Lab puppy fraternal order of commiseration. That he in fact, by his own admission, had acquired through his own personal experience, great empathy and compassion for those of us now on our own two-year purgatory of lab puppies on a seek and destroy mission.
For just the tip of the iceberg, since my last post a few weeks ago, our little babies have devoured my swimming gear including my goggles and cap, before I was able to rescue one fin and a swim sandal from their jaws.
"Why did you leave them out?," you may ask.
That's the twisted beauty of it. I didn't. Somehow these two demons got up on the table in our garage where these items are stored, were able to open the drawstring clasp on the bag, and then got right to work. Unless you've personally experienced this phenomenon, it seems incomprehensible. But oh, it's true. So very true.
"Get them other things to chew," you suggest?
Trust me, my friend, we have already spent a small fortune on chew toys and treats of various shapes and sizes. People have recommended pricey antlers and rubber toys stuffed with goodies just to name a few. By the way, they love the Ol' Roy brand of long-lasting chew bones. Long lasting for them being about 3 minutes.
All it takes is for you to turn your head for a second, and they're off like heat-seeking missiles. On one occasion, when we weren't looking, they snuck into my wife's closet and absconded with one of her pricey Birkenstocks, enjoying the tasty leather until it was in tatters. No worries though. They were kind enough to leave the other one intact.
And here's the irony of it all. Innocent observers have no idea. Whenever I pull up at a drive-thru, I get the same reaction.
"Oh my gosh!!! Chocolate lab puppies! They're so cute!" I think the entire crew of about a dozen girls at the Salinas Chick Fil A came over to the window to ooh and awh. "I'm in love!" one remarked. "I'd take them home in an instant!" said another. The young barista at Starbucks promised me a lifetime supply of free coffee in trade.
Little do they know what lurks behind the adorable green eyes of these seemingly innocent angels. Make no mistake, my friends. They are terrorists. Little terrorists wreaking havoc!